If you have followed our Blog … you might know that back in October of 2015 we started a sister company to Kentech Inc. called KÄRV. KÄRV is a woodworking business … is just getting started … and will be producing custom, handmade furniture and unique wood carvings for resale.
We are using the Kipware® software from Kentech Inc. in KÄRV to both create the G code programs for our X-Carve CNC router and to estimate cycletime and costs for the products we will be producing for resale. So we are putting Kipware® to the test in the real world … this time the world of woodworking … for additional in-the-trenches use.
We also wanted to document some of the use of Kipware® in various areas of KÄRV … so this post is dedicated to the cost estimating of a wooden, 3D carved plaque we have for sale on our website.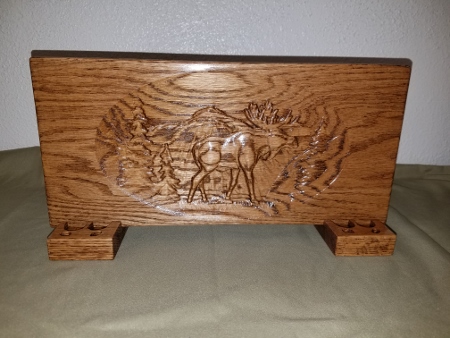 We wanted to illustrate through the video available below how we used our KipwareQTE® to create the retail price for the plaque considering material cost, tooling cost, labor cost and non-machining costs. Metalworking … woodworking … they both have very similar aspects as they relate to manufacturing … so this video is a great way to see KipwareQTE® in action in a woodworking environment … but with a lot of similarities with a metalworking one.
For additional information on all our Kipware® CNC and Machine Shop software titles … please visit www.KentechInc.com.
For additional information on KÄRV woodworking … please visit www.KarvWoodworking.com
Kenney Skonieczny – President
Kentech Inc.